Smile
by

B1A4

from the album, Ignition
Also Known As
Hangul
웃어봐
Kanji
Romaji
Pinyin
Released
March 14, 2012
Composer
Lee Sangho
Choi Youngchan
Writer
Choi Sabweon
Genre
K-pop
Dance-pop
Length
04:00
Label
Producer
Ignition
previous
"Just the Two of Us"
next
"Feeling"
Smile is a song released by B1A4 from their debut Korean studio album, Ignition.
Composition
Edit
The song was composed by Lee Sangho and Choi Youngchan while lyrics were written by Choi Sabweon.
Promotion
Edit
See Smile Lyrics
External Links
Edit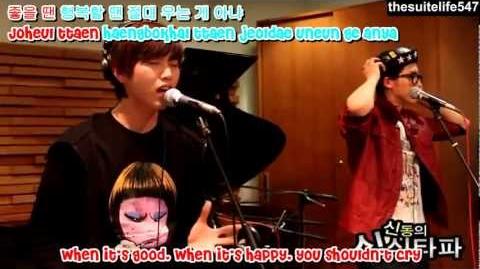 References
Edit
Ad blocker interference detected!
Wikia is a free-to-use site that makes money from advertising. We have a modified experience for viewers using ad blockers

Wikia is not accessible if you've made further modifications. Remove the custom ad blocker rule(s) and the page will load as expected.